NX-411 General Information
The NX-411 is Kenwood's current production 900MHz handheld radio and simply put, is the bee's knees. There are many bell's and whistles with the NX-411. This radio is the best 900MHz handheld for use on the 900MHz amateur band- this was previously said about the TK-481 Version 2, but with the advent of the NX-411 that title is no longer appropriate!
The NX-411 handheld is a 2.5 Watt radio with 512 channels and 128 zones, and a maximum of 250 channels per zone. The radio will scan any channels programmed in a zone. This radio does analog conventional (a.k.a. narrowband FM) and digital NEXEDGE (a.k.a. NXDN)- which is a direct (and WAY better working) competitor to MOTOTRBO (a.k.a. DMR). NEXEDGE uses FDMA where as MOTOTRBO uses TDMA- they are quite different. NEXEDGE, in simple terms, is just another digital mode like P25, DMR, or D-Star.
The front panel has a 14 character alphanumeric display with 12 button DTMF keypad- the radio comes standard with DTMF! All keys on the NX-411 are programmable via KPG-111D or KPG-111DN (Version 3.00 or higher) software. The current version of KPG-111D or KPG-111DN is Version 5.21 which was released in June of 2017.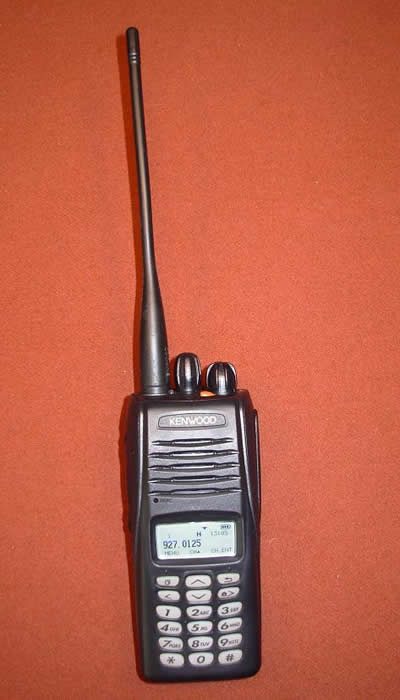 The antenna connector on the body of the NX-411 is a male SMA connector, the antenna connector itself being a female SMA.
Some of the "bee's knees" features of the NX-411:
Dot-Matrix LCD Display
Programmable Bitmap Startup Screen!
Programmable Startup Text
Multi-Language display
12/24 Hour Clock
High and Low Power RF Output Selectable (2.5W/1W)
Talk Around (T/A)
Signal Strength Indicator
Scan: Single Zone, Multi-Zone, List Scan
Dual Priority Channel Scan- Operator Selectable
Software Programmable Menu Items
2 Programmable Function (PF) Side keys
6 Programmable Function (PF) Front panel Keys
Operator Selectable Tone (OST)
Operator Selectable Squelch Level
TX and RX Audio Automatic Gain Control (AGC)
TX and RX Audio Equalizer
TX Audio Noise Suppressor
VOX (must use KHS-11, KHS-14, KHS-15-BH, or KHS-15-OH headset)
VGS-1 Voice Recorder and Voice Guide Option
GPS Option (must use KMC-47GPS Speaker Mic)