TK-481 General Information
There are 2 versions of the TK-481. The Version 2 is the 2nd best 900MHz handheld for use on the 900MHz amateur band (the NX-411 is tops!). The Version 1 TK-481 is also an outstanding 900MHz handheld but there are two details about it that make it less desirable then the Version 2 TK-481; it is only programmable using KPG-35D (which is DOS based programming software), and it will not do talkaround (simplex) at the push of a button, i.e. you cannot assign a front panel button on a TK-481 version 1 radio as a talkaround button. BOTH Version 1 and 2 TK-481's will work on the 900MHz amateur band.
The TK-481 is a 2.5 Watt handheld with 32 Systems with 250 Groups per System, 600 total Conventional memories, can scan 32 frequencies at once, and is available in two different models: DTMF and non-DTMF. If you own a non-DTMF radio and want full DTMF functionality then see the "Downloads" section or the "DTMF Conversion" TK-481 section of this website for further information. Pictured below are two TK-481 Version 2 radios, on the left is the Non-DTMF version, on the right is the full DTMF keypad version.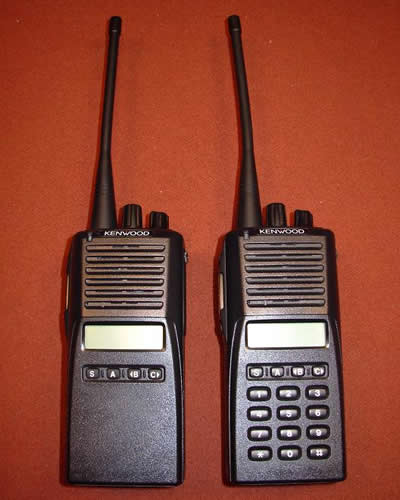 The front panel has a 10 character alphanumeric display, all keys are programmable via KPG-35D (Version 1 TK-481) and KPG-49D (Version 2 TK-481). The "S" button is typically programmed as Scan, the "A" button as Scan Add/Del or if you have Version 2 TK-481 you can program this button as Talkaround (this option is performed using KWx81ETA.exe-see "Downloads" section). The "B"- back arrow key can be programmed as either System or Group Down and the "C" - forward arrow as either System or Group Up. The Orange button (tactical switch) is typically programmed as high/low power, Rotary dial on top as System or Group up/down. The side panel buttons as Monitor button and then the other side panel as Lamp. If you have a DTMF front panel you can assign one of the side buttons the "Function" button and then assign 0-9, *, and # a function such as Scan Add/Delete, High/Low Power, Carrier Squelch toggle, etc...i.e. you get lots of versatility!
The antenna connector on the body of the TK-481 is a male SMA connector, the antenna connector itself being a female SMA.
The Kenwood TK-481 Version 1 radios are programmed with KPG-35D which is DOS based software. This software requires a either a pure DOS based environment or the program DOSBox to run properly and you can use either a USB or Serial DB-9 KPG-36 program cable- a USB programming cable will ONLY work if you are using the program DOSBox to run KPG-35D. The USB program cable will not work if you plan on using just DOS and KPG-35D. The Kenwood TK-481 Version 2 radios are programmed with KPG-49D Version 4.xx which are Windows based software, work on Windows 95 thru Windows 10 and will work just fine with a KPG-36 USB programming cable or Serial DB-9 programming cable.
Another noteworthy item is that a Version 1 TK-481 CANNOT be firmware upgraded to a Version 2 TK-481. There are minor hardware differences between the different Version radios.
Identifying a Version 1 from a Version 2 TK-481 can be a little tricky at first glance. The only safe bet with identifying one or the other is by looking under the battery of the radio where a version 2 TK-481 will read "Ver 2.0" if the radio does not state "Ver 2.0" under the battery then it is a Version 1 radio! The red triangle in the "W" of "Kenwood" on the front of the radio is not proof that the radio is a Version 2!